Human Resources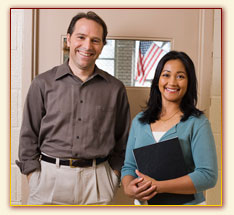 The AIA Human Resources Department warmly welcomes you and invites you to visit our campuses located in Houston and Tyler. Our schools provide a close-knit, supportive environment for our students as well as for our teachers and staff.
Each year we hire many new employees such as teachers, counselors, food service workers, and maintenance workers, to name a few.
We seek dedicated, enthusiastic people to join our team of employees. If you're looking for a supportive, positive work environment, please consider joining our team here at AIA.
How to Apply
Instructions for applying for a position with AIA District:
1. By Mail
Complete an Employment Application (at the top/right)
Send the completed application along with a resume and a copy of Certification (if applicable) to:

Human Resources
P.O. Box 20589
Houston, Texas 77225-0589
1. By Internet
Send your letter of interest with attached resume and a copy of Certification (if applicable) to:

aiac2001@aol.com
Job Openings
AIA is a very progressive organization and we are constantly seeking progressive individuals to join our team. We offer positions in the following categories:
Office/Clerical
Teachers
Teacher Aids
Maintenance
If you would like to be considered for employment, please mail your resume and letter of interest to:
AIA
Human Resources Dept
P O Box 20589
Houston, TX 77225-0589